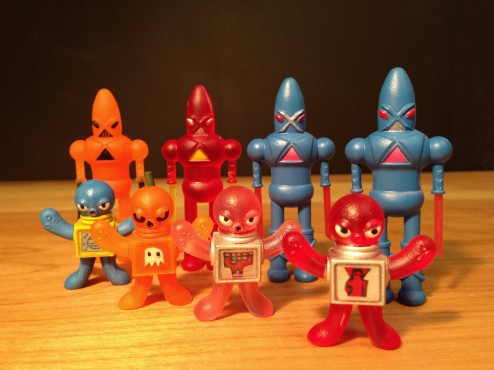 Debuted at NYCC 2012 with the Onell Design booth along with variations of my Classic Four figures.
These figures represent my first "level up" in sculpting. I worked about four months straight( inactive in the indie toy scene during this time), learning & applying the 3D sculpting programs Maya & Z-brush for the very first time. They really opened up a new view into the possibilities of what I might be able to accomplish.  I was very happy with my first digitally printed sculpts. I then molded, casted & painted them in a variety of colors. These two represented soldiers in the Invading Force known as the Space Army, who's target of course Earth and whose main adversary was the earth defending giant robo Turtle Tetsujin.
See current variations of these figures available on my shop-site peterkatoshop.com
Tako Cubes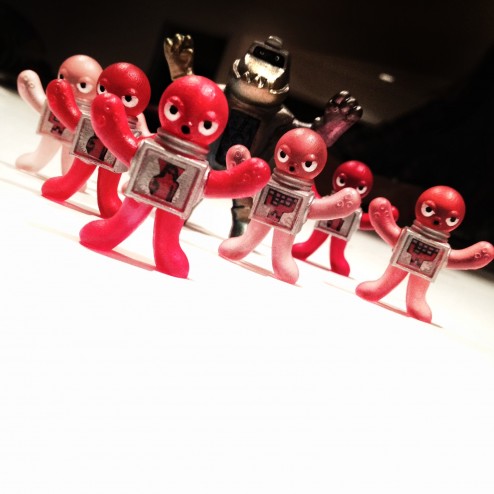 I was inspired by the Covenant Grunts from the video game Halo (which I play religiously with my friends on Fringe Friday nights). Small & tough but not too bright they are commonly used as cannon fodder in battles. They are more dangerous in numbers, large numbers. Different colors represented different species types and then cube insignias classified specific military designations.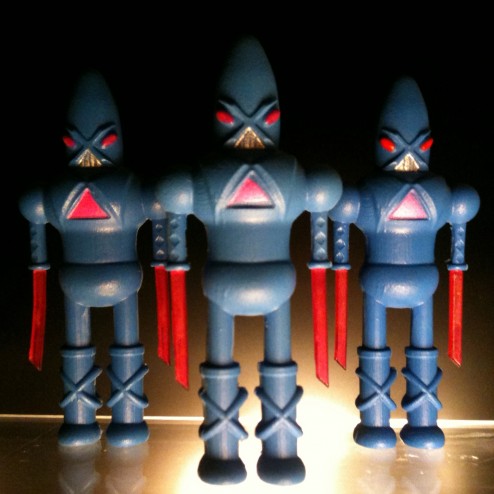 Ninja Robo
Armed with twin laser swords the Ninja Robo are the most deadly assassin robots in space! Pray you are not their next target!